Diversifying Daily Meals On the Go
With convenience, variety and ease of cooking at the heart of all EB Frozen Food's product offerings, one can expect to spruce up normal daily dishes to mouth-watering delicacies within just 15 minutes.
For 25 years now, EB Frozen Food has sought to offer fresh tantalizing and delicious seafood-based products to consumers. Their wide-array of products, ranging from the Hotpot, Finger Food, Dimsum, Western, Japanese to Oceanic series has made it a perfect add-ons for special occasions. Pair it with any meal, and their products blend in seamlessly, providing a great addition as a small bite.
EB Frozen Food serves 28 different markets, all with their own unique preferences. As a testament to how flexible their product offerings are, the Hotpot, Dimsum, and Western series are universally well-received. Consumers' all-time favourites include the Flower Cheese Tofu, Small Leaf Prawn Paste, and Tiger Prawn Roll. The brand is best known for their signature Shrimp Wonton: made with fresh whole shrimp wrapped in aromatic signature wonton pastry. It comes together with a sachet of flavourful Mushroom soup powder. The juiciness and sweetness of the fillings are retained whether cooked in soup, or as an add-on for instant noodles; with a multitude of textures that burst open on the tongue with each bite.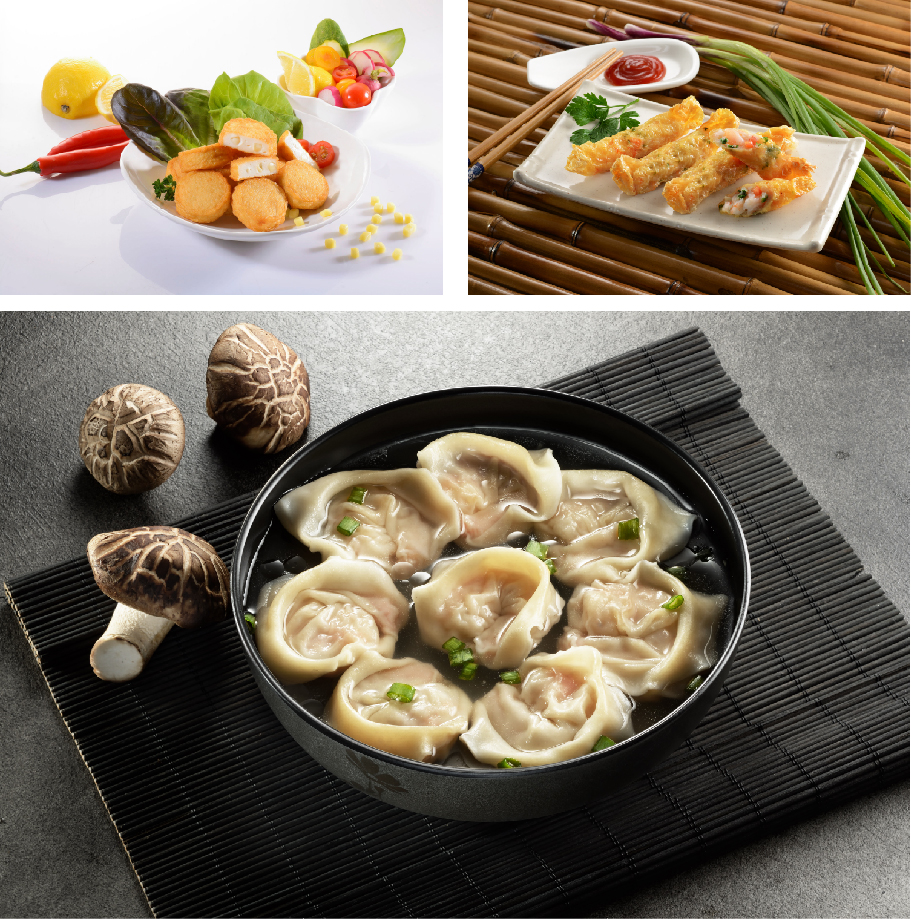 As one of Malaysia's leading frozen food manufacturers since 1995, the brand has distinguished themselves from other surimi-based products manufacturing companies by augmenting their series with premium bean curd skin. These bean curd skins are made with non-genetically modified (GMO) soybean, bringing a different crisp and aroma to their products.
Being a versatile ingredient with great nutritional value, the prawns/shrimps are undeniably the most frequently used ingredients in EB Frozen Food's product offerings.
"Shrimp/Prawns contain various benefits that many may leave out. It is very low in carbohydrates and devoid of the saturated fats associated with heart disease. Other than that, it contains all of the essential amino acids and provides a good amount of calcium, iron, magnesium, potassium, zinc, selenium, and choline required by the body," said Ms Ooi Thian Siew, Chris, Chief Executive Officer of EB Frozen Food.
Industry reports have projected that the shrimp market size has the potential to grow by USD 4.89 billion during 2020-2024 and the market's growth momentum will accelerate during the forecast period. Besides, the global surimi market has also shown consistent growth in recent years, and is expected to experience high growth trends within the next 10 years. Contrary to the soaring demand, market supply has shown stagnancy over the past decade.
Recognising the gap in global demand and supply, EB Frozen Food will continue to focus on enhancing and developing shrimp-based products in the coming years to suit market needs.
Read more relevant topics
On the note of how EB Frozen food would cultivate customer loyalty in such a saturated market, Ms Ooi said, "We look forward to appreciating, anticipating and accommodating to the needs of our customers. At the core of our operation, we always strive to continuously improve on our products' quality and taste. Apart from that, EB Frozen Food will keep on developing a variety of wholesome foods to cater the market trend."
As a sneak peak, consumers can anticipate upcoming Alaska Pollock Products.
"We rely on continuous innovations and research for each new product that we develop. We test them for quality, feasibility and then make further improvements according to market preferences," said Ms Ooi.
The brand also prides itself on the high standard of food safety upheld.
"All of our products are manufactured in accordance to ISO 22000, HACCP, GMP, and HALAL standards, which stress the emphasis we put into ensuring all our products are produced in the most hygienic conditions for safe consumption," added the Ms Ooi.