Presenting the Gift of Inner Wellness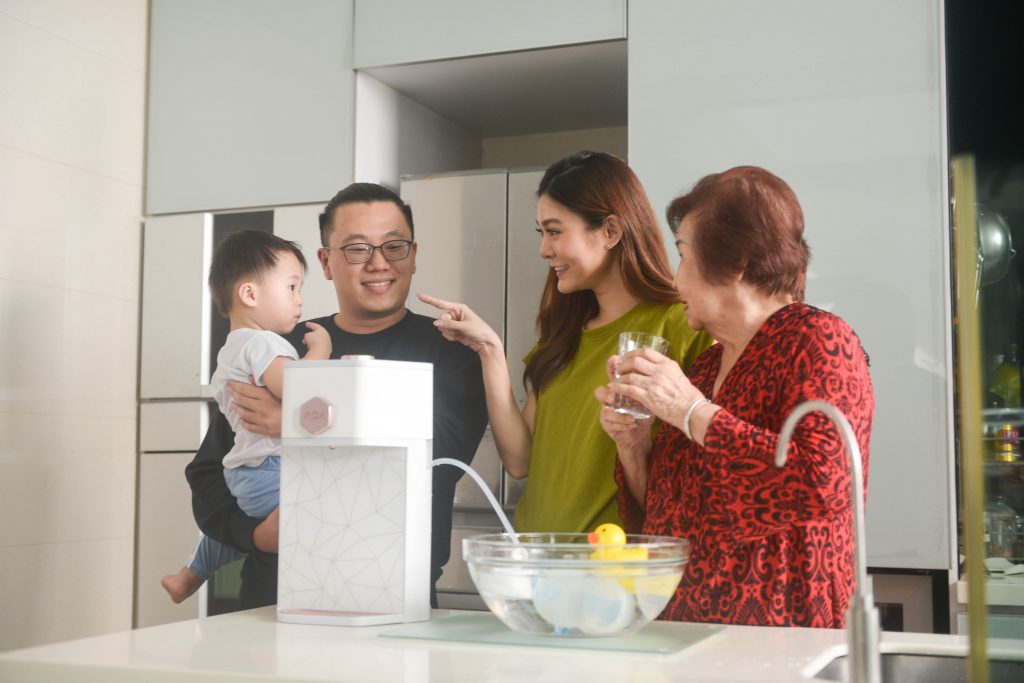 Synonymous with the health benefits that come with drinking alkaline water, AOX Singapore aims to transform lives. 
Where would you find Singapore's most well-known, award-winning antioxidant alkaline water dispensers?
According to Mr Jeffrey Tan, CEO of AOX Singapore, 60 per cent of its users are households, where decision-makers are mainly females aged 35 to 70.
About 20 per cent are corporates while other users, including more than 50 medical centres such as Novena Medical Centre, Thomson Medical, Rowell Clinic & Surgery and Thomson Dental Centre, make up the remaining 20 per cent.
And as more Singaporeans discover the benefits of drinking alkaline water — water that has a pH level between eight and 10, as compared to the pH level of tap water which is generally around seven — these figures look set to grow.
Built for good
Promising natural antioxidants in every drop, its range of water dispensers run the gamut from hot- and cold-water dispensers to non-electric models, or Compac series which resonates with those who like their health and wellness accessories minimalist.
All have one thing in common: they are designed to promote wellness inside out.
According to the brand's website, drinking AOX antioxidant alkaline water helps the body to eliminate acidity and detox more effectively. This could lead to the prevention of diseases generally caused by a diet high in acidic food and drinks.
The benefits of drinking AOX antioxidant alkaline water may neutralise acid in the bloodstream to improve energy levels and metabolism, support the immune system, flush out toxins, lubricate muscles and joints, easing inflammation and arthritis and encourage skin hydration.
Part of a healthy diet and lifestyle
AOX has become synonymous with health benefits, as well as better, health, skin and hair. How has the brand stayed true to giving users these benefits?
Says Mr Tan: "In line with a patented formula owned by AOX, ingredients are made and packed in Korea by its appointed manufacturer(s). AOX filters are tested and passed FDA standards for heavy metals.
"AOX products feature several types of infused minerals; calcium and magnesium beneficial for strong bones, potassium and sodium beneficial for healthy blood cells, and silica which strengthens nails, hair, joints and skin."
A world's first
Its latest offering is the Compac O2+ water dispenser.
Billed as the world's first antioxidant alkaline dispenser with an in-built Active Oxygen Sterilizer, it does double-duty as a water dispenser that also sterilises and sanitises.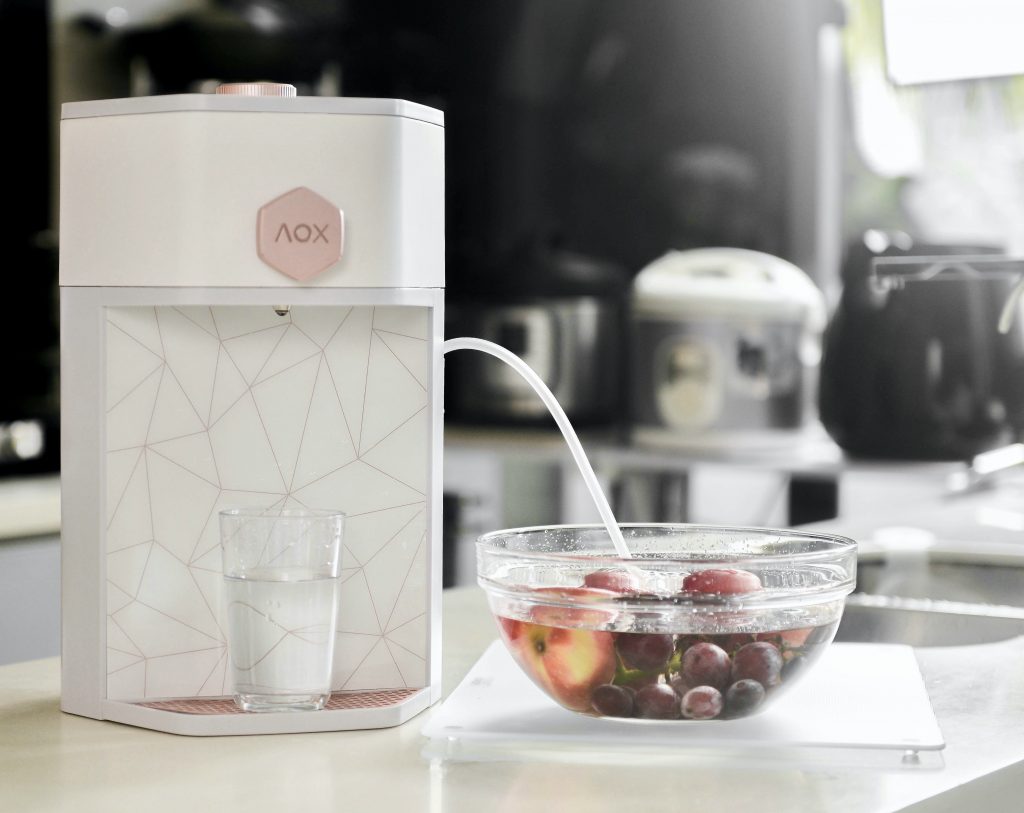 Utilising a patented AOX filter technology, Compac O2+ offers a hassle-free drinking experience by producing safe and healthy drinking water straight from the dispenser, without the need for boiling it.
It also has the ability to sterilise milk bottles, other baby's products; sanitise hands, the air and kitchen utensils; detox meat, poultry, seafood, fruits, vegetables; and create cleaning water for face wash, dental care as well as the first aid treatment of small cuts, without heat or chemicals.
In other words, you and your family enjoy safe and healthy drinking water, as well as a clean environment.
Creating a win-win collaboration
Compac O2+ is the product of a collaboration with an award-winning product designer with years of experience in product development. He was also instrumental in helping the brand "short-list the right manufacturer, while representing us and working with the respective engineers to build the finished product according to our specifications".
An enhanced version of the brand's 2018 Singapore Good Design Award Winning Compac TT Tap 2 which took more than two years to produce, from the drawing board to the finished product.
A stylish addition to your kitchen, bedroom or even home office, its defining feature is two elegant faucet knobs, along with an Active Oxygen Generator.
At the same time, three AOX filters are neatly housed in the compact housing so the whole unit remains streamlined and sleek, taking up little space on any table- or counter-top. The creation of this revolutionary product was not without challenges.
Says Mr Tan: "To be frank, it is much easier to private label a ready-made product and make a small modification to differentiate it. Our lack of experience in how to shortlist a contract manufacturer made this project very challenging.
"There were lots of uncertainty and the fear of failure, but we were blessed with an experienced and helpful designer to ensure that the project went smoothly, except for the delay of the production due to Covid-19."
A two-in-one home essential
Compac O2+ is specifically designed for two groups of families: young families or those with a new-born and those who are health-conscious.
New mums — already harried with a multitude of responsibilities, on top of little rest — can forgo the hassle of standing by a boiling kettle, or ensuring that hot water flasks are constantly filled when preparing their baby's feed by adding an AOX Super Mini.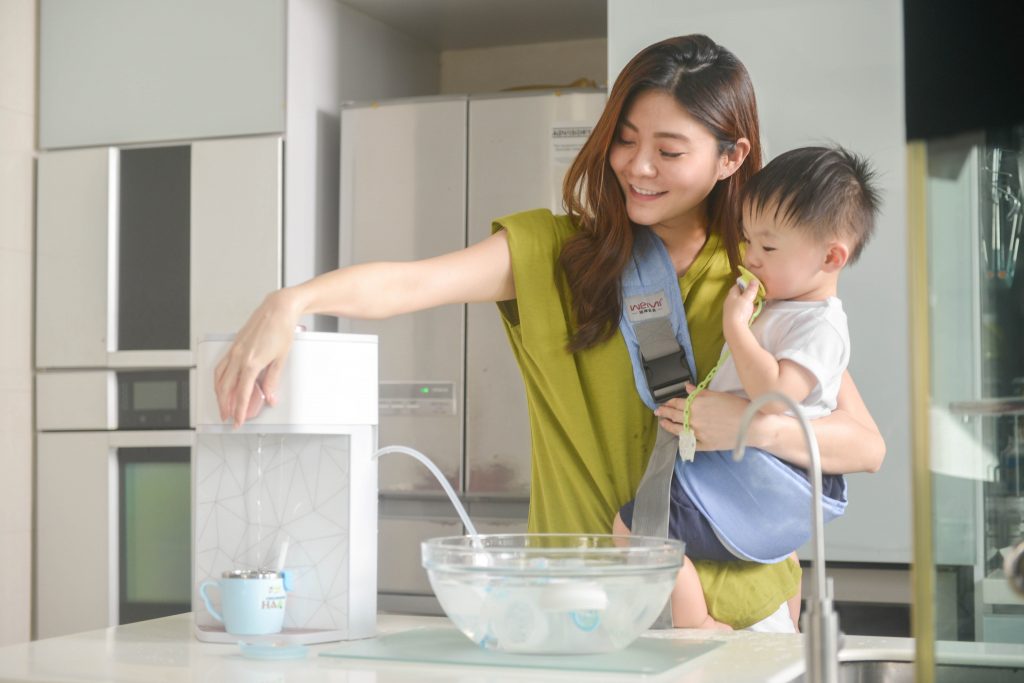 With AOX Super Mini, at the push of a button, hot or warm water which is ideal for milk formula is readily available, along with the ability to sanitise and sterilise baby's milk bottles, pacifiers, and even toys.
Health-conscious families who need drinking alkaline water round-the-clock will also appreciate the ease at which they can enjoy their drinks. Each glass is free of contaminants and packed with essential antioxidant alkaline minerals.
Improving nature's best
Offering affordable, relevant and easy to use water solutions has been the hallmarks of AOX success. How has this shaped the market, and how has the response been for Compac O2+?
Based on a market survey, the brand could have easily priced Compac O2+ from $3,500 to $5,000. However, to make it more accessible, it retails at $2,799, inclusive of GST.
What's more, since the launch, the take-up rate is very encouraging.
Meanwhile, the brand continues to pursue innovation and the betterment of its current technology. It does so by being on the lookout for how it can apply new technology in its new products.
The end goal: innovate products that help to solve its customers' problems and to make life easy.
Read more relevant topics
Building on a high level of trust
AOX appoints credible manufacturers in Korea to specifically manufacture dispensers and filters according to its specifications. Both dispensers and filters are genuinely AOX products.
AOX is accredited with CASE TRUST, giving assurance to customers that it is committed to providing quality products as well as after-sales service.
AOX antioxidant alkaline water is also lab-tested, providing peace of mind to its customers that the water is safe and free from contaminants.
If the testimonials of its products are anything to go by, AOX is on the right track in improving the lives of its customers in one way or another.
How far is the company from its vision of being the number one in every market it serves?
Mr Tan shares: "We are thankful that AOX was voted Top Brand for the past three years, since 2018. We will continue to innovate and do our best to improve our customers' experience.
"Hopefully, with the introduction of Compac O2+, we will capture more market share."