Watsons: Upholding Retail Excellence From The Inside-Out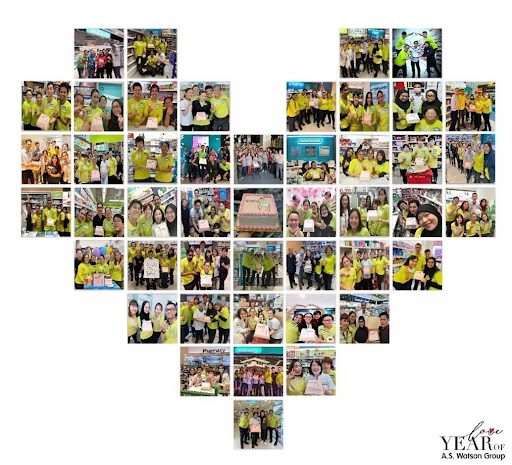 Housing all our favourite brands under one roof, Watsons is a familiar go-to store for health & beauty needs. Having bagged a wondrous amount of service excellence accolades, the leading health and beauty retailer has also recently been conferred the title of 2021 Top Employer Brand.
In this interview article, Ms. Irene Lau, Managing Director at Watsons Singapore shares with us how they have been able to achieve the goal of being a company that people love to work for, as reflected through the high net promoter score in the recent anonymous employee engagement research survey conducted by Influential Brands.
Question: If you could encapsulate the employee engagement at Watsons in one sentence, what would that be?
Ms. Lau: We aim to put a smile on the faces of our employees so that they in turn put a smile on our customers' faces.
Question: Can you share with us what is the overall strategic direction that Watsons adopt when it comes to employee engagement?
Ms. Lau: People are our greatest asset, and we strongly believe that high levels of employee engagement enable one to be more motivated at work. When employees are engaged, the workplace is filled with positive vibes and employees will be happier, more productive and in turn, work cohesively together to lead the business to successful outcomes.
We believe that a consistent effort to engage our staff is more than having flashy communications and introducing new staff benefits; it requires a relentless commitment to the cause. In all our actions, we are consistently placing an intense focus on the people and reinforcing an organisational culture that emphasizes resilience in alignment with our business strategy.
Effective Learning and Development (L&D) programmes, inviting feedback from our employees, and organising regular activities for them to get together are all part of our efforts to enhance the overall employee engagement.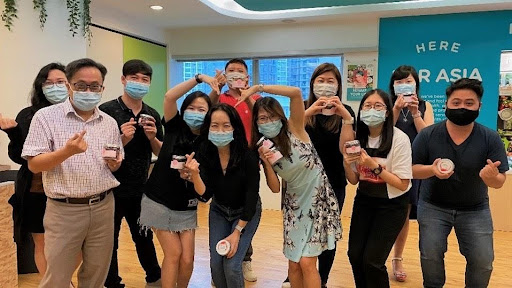 Question: With regards to the engagement strategies that you have shared, how effective have they been in achieving the overall business goals?
Ms. Lau: Our store operations employees who stay connected and engaged are more likely to go the extra mile for our customers. Happy customers will in turn visit our stores repeatedly and may even share their positive experiences with their friends or family members.
We are proud to say that this year, we bagged 242 Excellent Service Awards (EXSA) this year, awarded by Singapore Retailers Association (SRA), a national award that recognises individuals who have delivered exemplary and quality service.
Our store at Northpoint City has also been named as one of the top 46 winning stores of the ASW Global Best Store Team Awards 2020, competing against more than 16,000 stores across 31 markets under A.S. Watson Group. Winning these awards is a testament to our HR strategy – which churns out outstanding store teams that put a smile on the faces of our customers.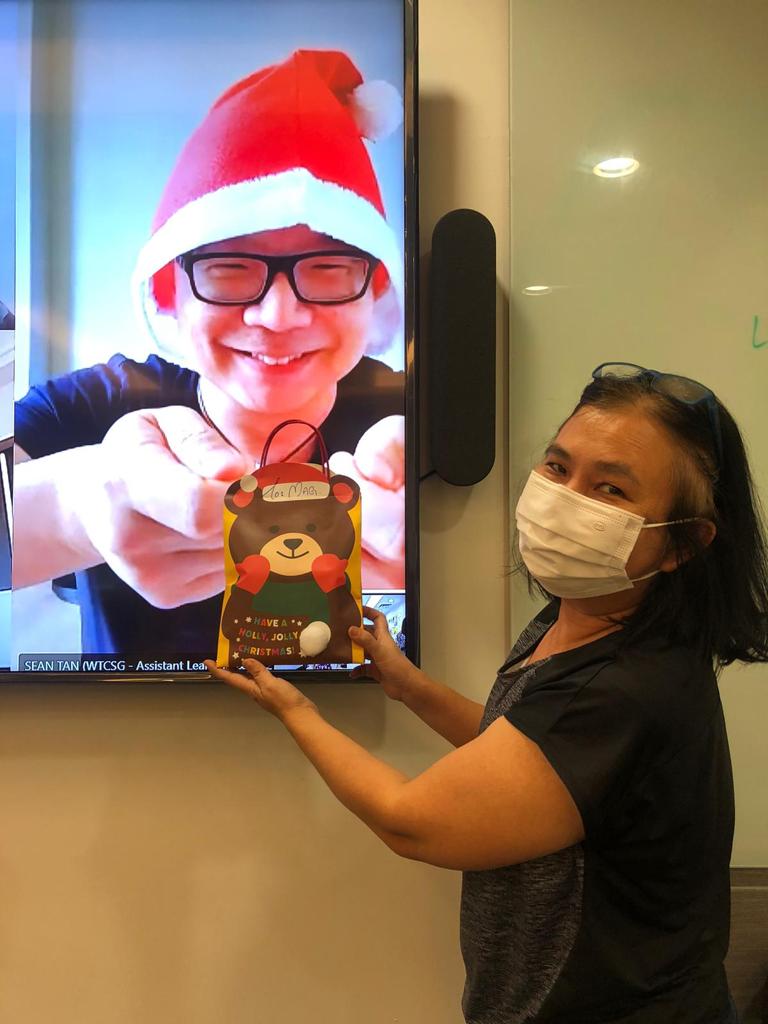 Question: What were some challenges that Watsons has encountered while implementing the employee engagement initiatives?
Ms. Lau: COVID-19 pandemic has forced us to make drastic changes to the workplace, and as a result, caused complete disruption to employees' experience.
With 80% of our employees being frontline workers, one of the challenges is getting a big group of people to come together for any activity. To tackle this challenge and take into account the COVID-19 restrictions, some of our employee engagement activities have switched to virtual events so that our store operations employees can participate from wherever they are safe.
Different activities were planned for different interest groups, such as TikTok Dance Challenge, Virtual Escape Room, Handicraft Workshops, Mental Wellbeing Talks, Christmas & Chinese New Year Decoration Contests and Volunteering Day, just to name a few.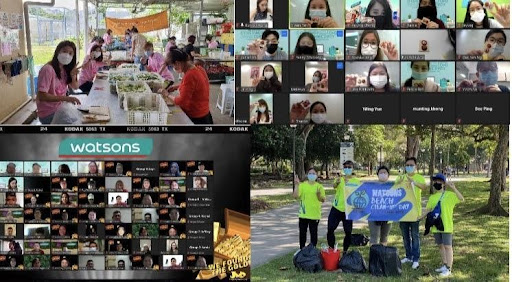 Question: How would you describe the company culture in Watsons?
Ms. Lau: Our DNA (Passion, Commitment, Teamwork, Science and Innovation) drives us forward. They provide the framework for making decisions, such as how we get things done in our daily lives.
Open communication is key. We encourage our staff to share their ideas to foster an open culture of communication and innovation, readying the company to be agile for changes in the new retail age.
Question: For office staff who are working from home during this covid pandemic period, has it affected the work culture at Watsons?
Ms. Lau: Working from home means lesser face-to-face interactions with fellow colleagues and it inevitably affects work culture at Watsons. Communication is mostly reduced to virtual meetings.
New colleagues especially, might find it hard in the beginning with such a 'virtual' environment as it takes more time for them to familiarise themselves with the organisational structure, their colleagues, and their job scope.
Therefore, we need to create a productive work environment that brings the entire team together, even if everyone is scattered around the island.
We have implemented a few ideas to build camaraderie among the employees:
1. Organise regular employee engagement events such as Mental Health Talks, Play Kahoot!, Pilate, Skribble, Game of Wealth, Yoga session, etc. via virtual meetings during work hours and let the employees take time off to connect with each other and have fun at work despite being physically apart.
2. Organise regular webinars on mental health and wellbeing for employees to ensure they have an avenue to seek advice and ask questions about coping with COVID-19 to minimise negative impact on mental health.
3. Celebrate virtually together on special occasions such as birthday celebrations within the department.
4. Establish regular check-ins through video calls or instant messaging as part of a routine to let employees feel less isolated and more in touch with each other.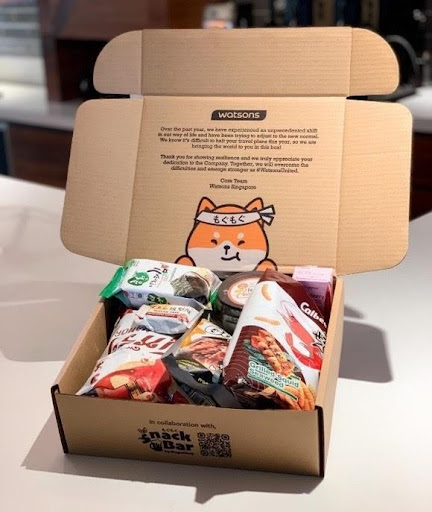 Question: What does work-life balance look like at Watsons?
Ms. Lau: We encourage work-life balance among our employees, as this is essential for our employees' wellbeing.
We create activities employees would love to do, such as virtual workshops during work hours or volunteer work for employees to take time off from work, giving them a feeling of satisfaction from helping others. We also offer perks such as a pool table and massage chair in the office for employees to take well-deserved breaks and have some fun.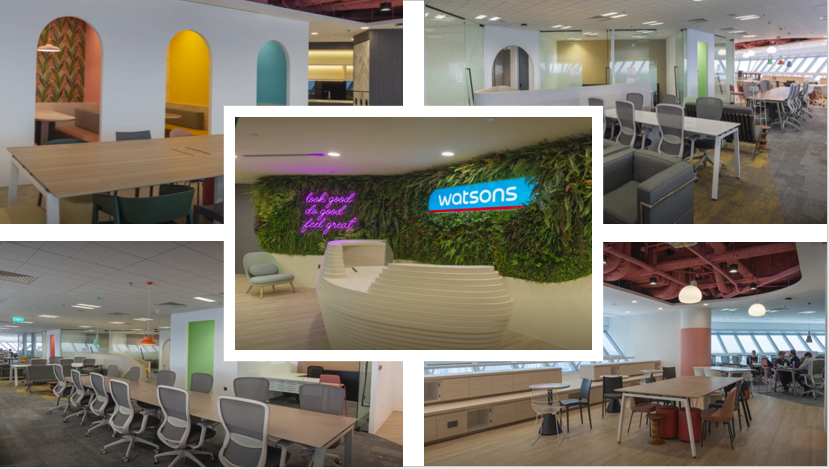 In addition, we provide our employees with leave benefits beyond what the Employment Act stipulates, such as Family Care Leave and Blue Sky Leave for our employees to take time off to unplug and recharge.
Question: What are some interesting facts about Watsons that most people don't know about?
Ms. Lau: At Watsons, our employee's average age is 37 years old.
And 20% of our employees have worked with us for more than ten years. We are thankful for our people's resilience over the years and are proud to have a dedicated workforce!
Question: On that note, how has Watsons been able to hire the 'right people' that makes up the dedicated workforce you have now?
Ms. Lau: Cultural fit is a concept that can be hard to define, but we know when it is missing. When employees' beliefs and attitudes are aligned with our core values and company culture, they will naturally fit well into the company, express greater job satisfaction, perform better and are more likely to remain with us for a longer period.
In this day and age, we also need people who are adaptable, align on the need to innovate and curious and willing to try in mindset. As such, we strive to hire people who fit the bill.
We can teach someone to do a job, but we can't teach someone to love the way we run the business. If employees are not aligned with our culture and are not committed to living it, they can create a toxic environment that will demotivate the rest, even if they bring a great deal of skill and experience to their craft.
To hire right, we clearly express in all our communication materials, including our website and job postings our business culture that reflects our core values. We also hire right by recruiting employees who share cultural similarities.
Any members who are involved in interviewing potential employees are required to have a good grasp of our company culture and be able to convey clearly to candidates during the interviewing process.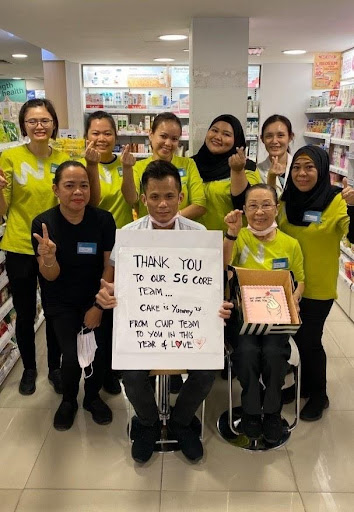 Question: It was mentioned earlier that L&D is one of the key employee engagement strategies. Can you elaborate on that?
Ms. Lau: In Watsons Singapore, our L&D strategies are inclusion, development and retention of talents, and utilise for multi-channels such as workshops, sharing sessions, eLearning platform, external conferences.
With a bucket of training resources that we have, we look after the development of our 4 key entities; Corporate, Distribution Centre, Stores and Pharmacy, each with its unique expertise and knowledge requirement. Each entity is encouraged to approach the L&D team, should there be a niche requirement to upskill their employees.
We also have a series of Talent Development Program to identify high-potential employees and place them in a global program where they will get a chance to visit HQ in Hong Kong (during pre-COVID) to exchange pointers with talents across different regions. We hope to bring more to our people so that they can give us more and stay with us longer.
Last but not least, workshops, workgroup sharing sessions, eLearning platforms, and external conferences which cover application knowledge and soft skills development are offered to our people. Our trainers also ensure that the training content is contextualised to better aid employees to grasp the skills and knowledge more effectively.
Question: What are two specific L&D initiatives that Watsons have implemented? And how effective have they been?
Ms. Lau: The first would be the Health Assistance initiative. About 40% of our stores have a Pharmacy Counter. To provide better customer service in non-pharmacy stores, we rolled out the "Health Assistants program".

Our Pharmacist developed a 1-year program to train a group of our retail colleagues on medication usages and recommendations on common ailments. Store employees are required to pass an examination before they are allowed to graduate. To date, we have 41 trained Health Assistants, and they have served thousands of our valued customers and put smiles on their faces.
The other initiative would be Buddy Coaching. To help create a more inclusive and conducive working environment, we introduced the buddy coaching program to train passionate and dedicated staff to become Buddy Coaches to take care of new hires coming into their stores.
They help the new hires assimilate into their duties and build connections with the existing store staff. This helps to minimise the uncertainties and fear that a new hire usually has, especially in the first month of their job. The attrition rate has seen an improvement over the years since the start of the program.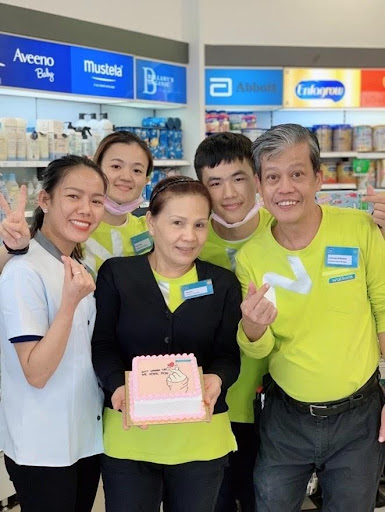 Question: To wrap it up, what are some tips or advice you would share with leaders who are working on their engagement and cultural strategies?
Ms. Lau: Employees feel motivated and engaged when their voices are heard. At Watsons, we are constantly in touch with our people and encourage open and honest feedback. For instance, we encourage employees to share their voices through an Internal Suggestion platform. This allows everyone to contribute their ideas and feedback and where great ideas will be recognised and implemented.
Always open your ear to employees, be an active listener and engage in dialogue with them so that they know that you are listening and attempting to understand them.
Also, embrace the use of technology in L&D as well as human resource management. To better capture voices and staff sentiments, create shorter, more effective training sessions that can reach more employees, collaborative and self-directed learning anytime anywhere.