Wang Cafe: Serving Coffee to a Nation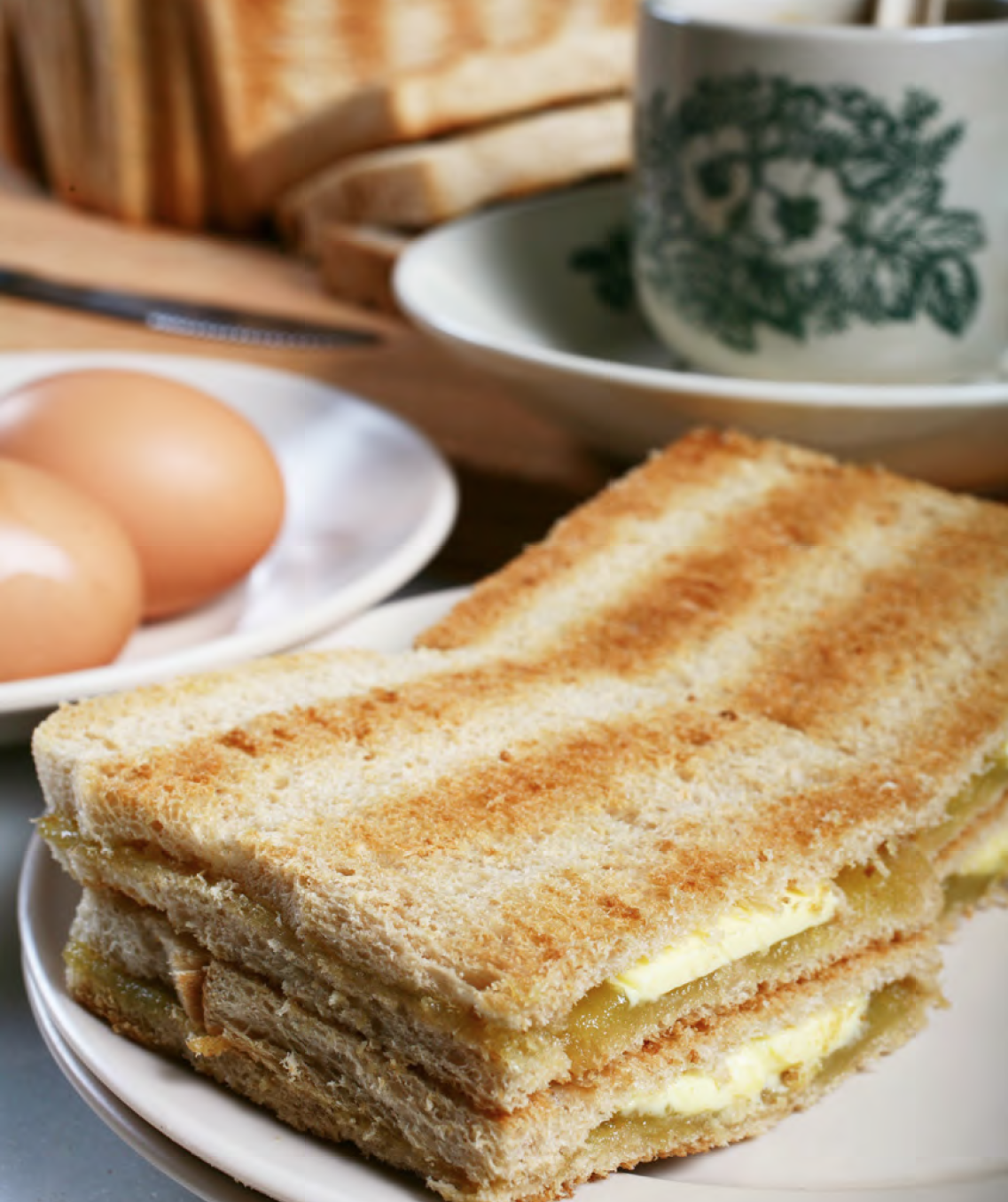 The scent of an aromatic brew, the buttery crunch of toast set against a feature wall of old-school biscuit tins. Wang Café, one of Singapore's beloved coffee and toast joints has had a colourful past, given its half a century-old history.
Founded in 1953, its original owners, like many Hainanese in Singapore, started up local style coffee shops (kopitiams) to cater to the community. The menu adapted from British colonial culture, sold coffee and tea, toasts and cakes, as well as half-boiled eggs. Located at the original Bugis Street (present day Bugis Junction mall), a tourist attraction famed for its charming cabaret atmosphere and a mouth-watering street food culture, the coffee shop was named 旺角 (wàng jiǎo) which means "Prosperous Corner" in Chinese.
The business continued in the family until 2006 when two budding entrepreneurs took over the fourth-generation business. They rebranded it Wang Café, and began turning it into a dynamic coffee and toast chain. To differentiate itself from the established local breakfast chains, Wang Café's menu included hot meal items, making sure to offer items which were quick to prepare. It was a winning formula and Wang Café quickly grew from strength to strength, opening cafes all across the island. Their success was noted by Foodfare, the food and beverage (F&B) arm of Singapore social enterprise, NTUC, which saw the fit of the café to serve the Professionals, Managers, Executives and Technicians (PMET) segment.
"The PMET segment is a very important segment that is sizeable and growing," NTUC Foodfare's Chief Executive Officer, Perry Ong, acknowledges. "We saw great potential with the brand and wanted to bring it to the next level in terms of retail appeal and product offerings," explains Ong.
To meet the needs of the brand's new target segment, the cooperative focused on enhancing Wang Café's tangibles and intangibles. "Wang Café has great products to begin with, such as its signature coffee brew and kaya toast," notes Ong. "We took it further, and expanded the menu with new signature offerings like Singaporean favourites such as laksa, mee rebus and mee siam."
While Wang Café was well-received amongst customers, NTUC Foodfare discovered that in the heat of the brand's expansion, issues of consistency had become commonplace.
As Perry Ong, Chief Executive Officer of NTUC Foodfare explains, "What we found lacking was the appreciation and importance of consistency in the delivery of our products by our staff. We couldn't have our customers experience and taste coffee in one way at one outlet, and experiencing another taste at a different outlet."
Hence, it was back to the drawing board, beginning with the research and development process at the central kitchen before testing them frontline at the outlets. Through the overhaul of standard operating procedures as well as mystery audits at the various cafes, Ong and his team were able to build up the product quality and consistency.
As he recalls, "I'd go to each and every outlet to taste and would hope my staff wouldn't recognise me, to see if the products were prepared in accordance to the standards we've developed."
With so many players in the coffee and toast market in Singapore eager to top each other, Wang Café finds itself consistently on the edge, eager to stand out from the crowd.
"I think for many F&B operators, our key challenge today is the shortage of labour," Ong confesses. "It has become incredibly challenging in recent years, crippling expansion plans, driving costs and pushing the industry to the point whereby in my view, has become a question of the survival of the fittest."
Despite the challenges, Wang Café remains cautiously confident. "We are always tuned to the constant changes in consumers' preference and lifestyles," Ong informs. In particular, Foodfare observed that coffee and toast cafes, supposedly local breakfast favourites, were actually inaccessible to a large fabric of Singapore's community: the Malay Muslim population. "We found an aspiring community who found the experience appealing, but needed greater assurance about our practices." Hence, Heavenly Wang was born. Designed to appeal to a broader market, Heavenly Wang combined the best of Wang Café's signature sliced brown kaya toast, succulent soft-boiled eggs and beloved coffee, with a concept that reinforced the multi-cultural fabric of the nation.
Keeping things fresh is at the heart of Wang Café's brand philosophy. The stores are refreshed every two years, Ong reveals. "We are always coming up with new concepts, such as designing our stores with furniture that reflects a brand personality that appeals to the PMET segment." The nostalgic biscuit tin walls – now a signature feature of the Wang brand – along with the sale of childhood biscuit favourites like the iced gem biscuits pull at the heartstrings of these exact customers.
Besides its retail touch points, the brand is keen to work on its tangibles. As Ong explains, "We've a dedicated research and development team that creates products for our customers." This could range from Christmas and Chinese New Year snacks and goodies, to seasonal variations of hot meals like Braised Kway Teow Soup. This, Ong insists, gives customers something to look forward to, and helps keep the brand's retail experience fresh. Wang Café also has a multi-tiered loyalty campaign aimed at Singaporean pioneer generation, NTUC members, Facebook fans as well as Wang Café's regular customers, designed to keep them engaged.
The development of the halal accredited Heavenly Wang offered the cooperative a unique opportunity to evolve the already established Wang Café brand. Celebrating 'Tradition Made Fresh', Heavenly Wang is inspired by Singapore's multiracial society. The new concept seeks to reconcile the melting pot of Singapore's cultures and cuisines into a place that Singaporeans alike could feel inclusive. The result is a concept that Singaporeans from all walks of life can dine and identify with. Vintage furniture a tribute to Wang Jiao's history and heritage from the first humble little stall by Bugis Street, combines with retro plush seats to create a modern café culture of today. In addition, Heavenly Wang's menu was specially hatched to be enjoyed by all.
"To be successful, a brand needs to have a clear strategy and knowledge of what appeals to its customer," Ong says.
Under Foodfare, Wang Café has transformed into a coffee and toast player that not only celebrates one facet of Singapore's heritage, but pays homage to it as a whole. And while Wang Café and Heavenly Wang have expanded their menu beyond the signature coffee and toast, they still remain at the very heart of the brands' signature. Guiding Wang Café and sister brand, Heavenly Wang, Ong hopes their common values will keep the two brands strong.
Wang Café is also conscious about the realities of the competitive Singapore market. Ong is confident that the dual concepts of Wang Café and Heavenly Wang, will propel it into the future. "In the next few years, many of the weaker F&B operators are going to face a very hard time, and if they are unable to cope, they will fall by the wayside," Ong professes. The issue, Ong elaborates, is inherent to the size of the population. "With the slowing growth of the population, many F&B businesses will be looking at each other's market share."
It is a reality that Wang Café is conscious about. "We recognise that it is not an easy journey. The market is not growing as big or as fast as before." But the cooperative has bold ambitions: "We aim to be the most loved brand in Singapore and the largest in terms of the number of stores."
This post is an excerpt from 30 Singapore Brand Leaders – Insights into the Amazing Machine of the Singapore Enterprise, brought to you by Influential Brands®.