Inventive Treats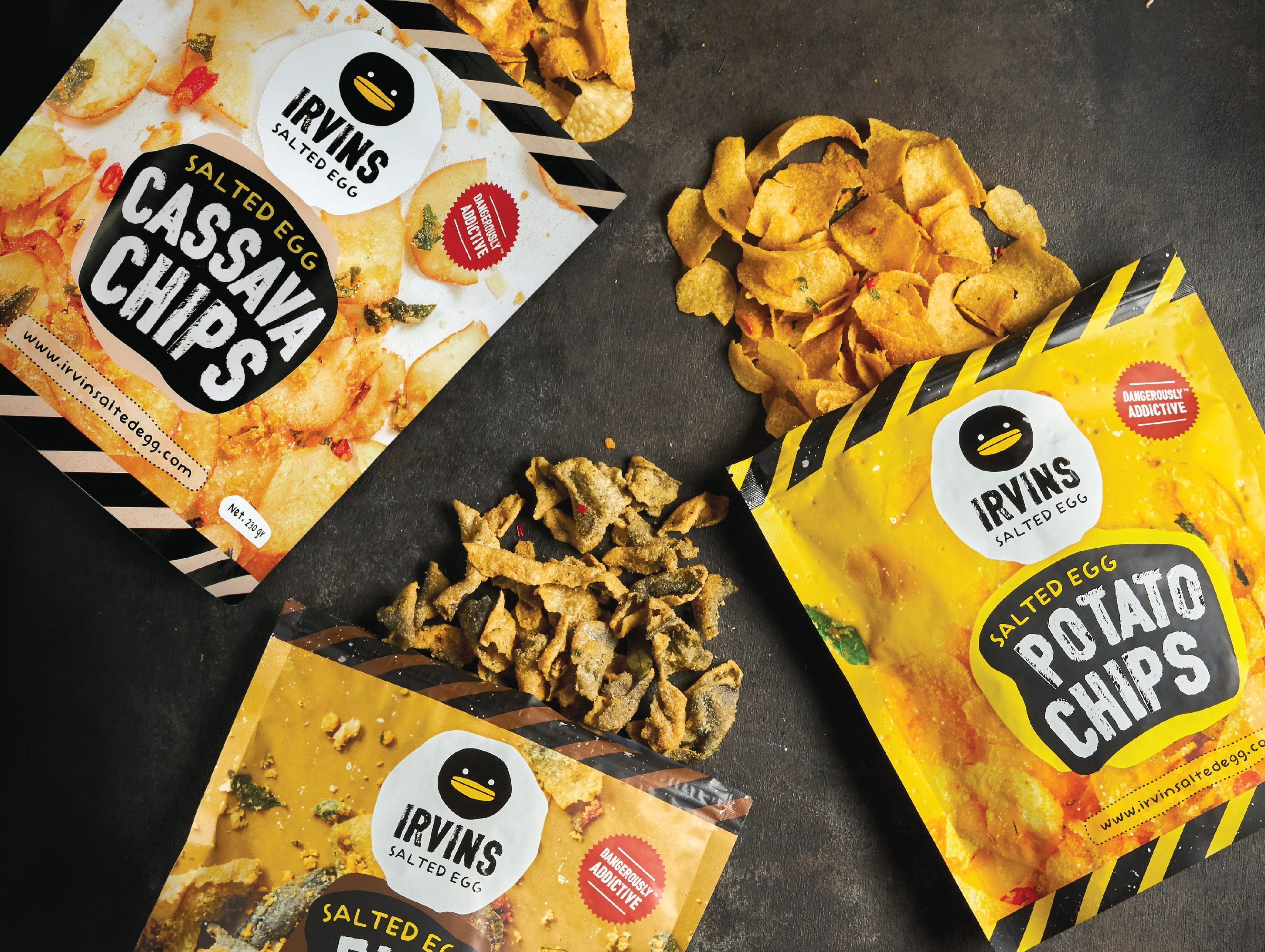 Adding twists to familiar flavors and ingredients in salted egg snacks has elevated IRVINS to one of Asia's most exciting food brands
Whether you're stealing a bite between meetings or cozying up on the couch for a Sunday movie night in, nothing beats the satisfying crunch and the burst of umami that is the signature of IRVINS range of salted egg snacks. With clever varieties such as Salted Egg Potato Chips and Salted Egg Fish Skin, IRVINS products are guaranteed to appeal to even the fussiest of palates.
This premium Singaporean snack brand grew from humble beginnings as a seafood restaurant renowned for experimenting with salted egg dishes. Customers constantly asked how to recreate their favorite dishes and to take home popular menu items such as salted egg potato chips and fish skin, leading to the founding of the IRVINS Salted Egg snacks empire. Today, the company is constantly on a mission to make its iconic salted egg a flavor renowned worldwide.
Made with no added preservatives, the Halal-certified products are produced using only the very best ingredients, including the finest quality duck eggs with a rich orange-red yolk. And this dedication to excellence is embedded at every level of the business.
"The IRVINS production process marries the human touch with specialized machinery. Maintaining a high degree of consistency in quality and taste across all the snacks it crafts is a fine art the company has mastered."
Factor in real-time customer feedback and rigorous internal quality checks, and you have a recipe for the most moreish of eats.
Another area of innovation for IRVINS is the packaging of its edible wares. In the early years of the company, snacks were packaged in industry standard plastic jars and transparent aluminum pouches. After finding out from customers that these lacked shelf appeal and convenience, the company transitioned to using innovative freestanding pouches developed by the dedicated in-house design team — the same great-tasting snacks, complemented by an easier eating experience.
Available in eight cities across Asia (with twelve stores in Singapore alone) and on popular online marketplaces, such as Shopee and Lazada, or the official IRVINS Salted Egg website, there is no excuse not to have a snack pack or two stashed away for occasions when a little indulgence is required.