Hosen: From Local Provision to Global Distribution
"I don't think anyone can afford to rest when it comes to consumer goods. Branding is dynamic and consumers are constantly on a lookout for new products and ideas."
Hosen Group's founders Mr Lim Hai Cheok and Mdm Chong Poh Soon started their business in Singapore's Chinatown in the early 1970s. Their retail shop's central location made it a perfect pit stop for tourists visiting the ethnic enclave. Local food delights and imported food products were an infinite source of 'desire' for the visitors to this South-east Asian nation. "We sold local delights like durian dodol, bak kwa to imported Kjeldsens Butter Cookies from Denmark, Cadbury Chocolates from UK, and Milo from Australia."
Daniel Lim, Hosen Group's Executive Director, still vividly recalls the provision shop in Singapore's Chinatown where he spent most of his childhood under the watchful eyes of his parents and owners.
"We weren't particularly special in any way, but the tourists… especially the Japanese and Taiwanese were eager to buy souvenirs to remember their trip by," Daniel shares.
With the benefit of hindsight, Lim Hai Cheok could be described as a visionary. His decision to diversify, and venture into wholesaling and direct importation seemed almost foolhardy. However, his enterprising spirit and foresight to diversify away from retail had ultimately set the growth path of the company and the success of the Group today.
An important milestone of the company was to venture into the supplying of goods to the supermarkets such as SILO, Savewell and Fitzpatrick's, some which have since closed or merged with the current retailers. As one of the first- movers and believers in the format, Hock Seng Food was able to gain a foothold in what would eventually be a competitive industry. This network opened up the opportunity to represent multi-national companies (MNC) brands, who were looking for distributor in this retail channel. The role as a distributor offered the company a chance to work closely with the global brand owners and learnt valuable insights into fast-moving consumer goods (FMCG) trends as well as the technical skillset to build and manage brands.
As a prominently distributor with its unparalleled distribution, it presented the company the opportunity to move further upstream. In the late 1980s, they decided to embark into in-house branding. One particularly category seemed to stand out: canned fruits.
Brand Origin
Hosen is about perpetual lifestyle enjoyment of nature's exotic fruits and vegetables. Its mission is to deliver the freshest agricultural goodness to satisfy the consumer's palate desire in a convenient way.
Early Development
The retail industry in the seventies was booming and the traditional mom-and-pop store were thriving. However, as the retail landscape started to shift as Singapore entered into the 1980s, the once thriving traditional stores started to lose ground to the supermarkets. Being in the forefront of the pack, Hock Seng rode the wave of growth of this new retail format.
While the canned food category experienced a growing demand, canned food brandingwas not exciting and even outdated. The quality was inconsistent and the products were essentially competed based on price. Daniel explains, "Regardless of the brand, canned longans were set against a blue-white background. Canned lychees had a yellow background…" These simplistic elements guided pre-World War 2 consumers who were not necessarily literate.
"We were one of the first few Singapore companies to do branding," Daniel says. The house brand was named Hosen -analogous to wholesome' – after the initials of Hock Seng Food to reflect a more consumer-oriented focus.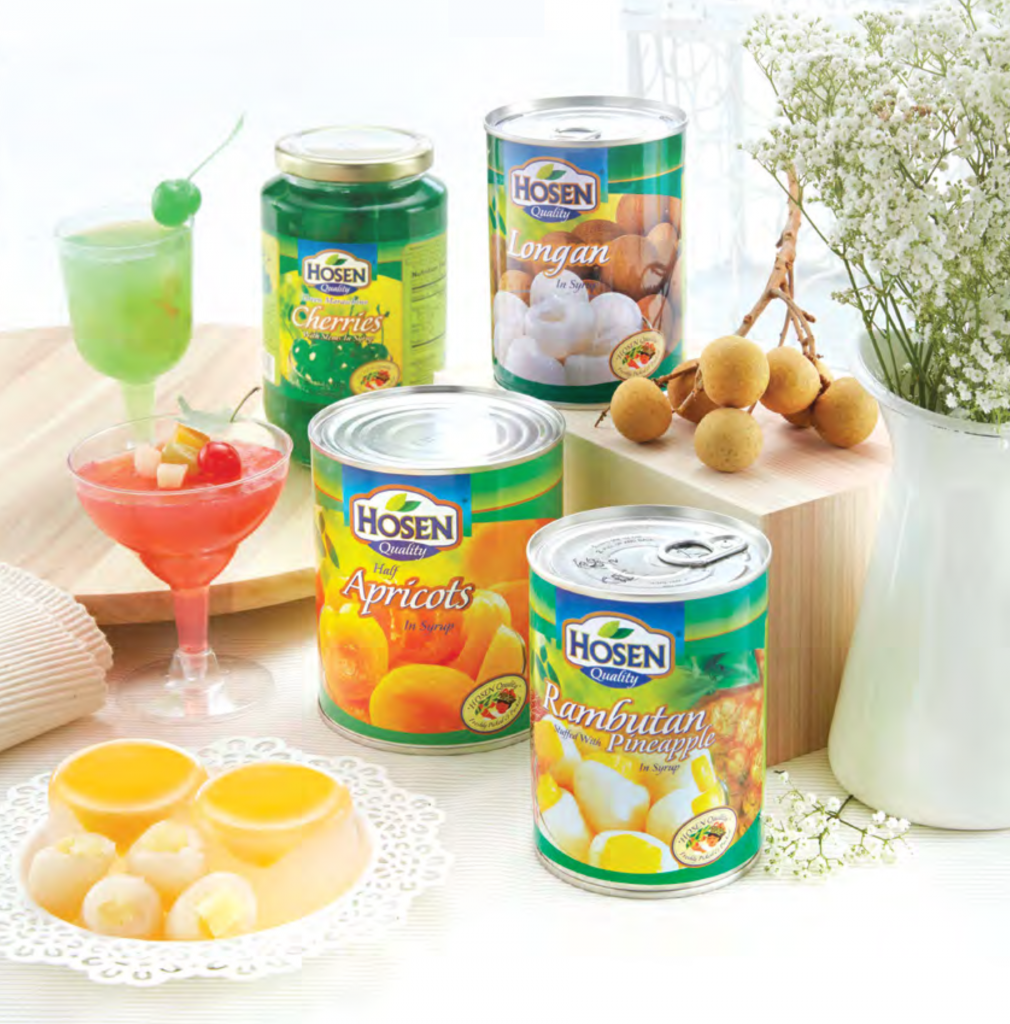 The strategy to launch its maiden brand was simple: intentionally introduce packaging colours that are completely opposite to other market offerings. Hosen products immediately stood out, and gained popularity for their refreshing take. However, as the range of products grew, the group observed that the product designs started to become inconsistent. There was a need to do something about it.
"Quality is a prerequisite of the brand. Quality comes first, only then can you build a sustainable brand," Daniel says.
Branding
In late 1990s, a revamp exercise was undertaken to standardise the thematic design of the brand. This encompassed everything from product images, colours and label structures, to posters and even carton boxes. To avoid confusing and losing existing customers overnight, changes to the relatively young brand were cautiously made and considered. The adoption of a uniform design structure and vibrant colours made Hosen products more visually identifiable on a supermarket shelf rife with colours.
"We saw a significant increase in sales as the brand became a choice for consumer pick-up," comments Daniel. The brand's market share also increased as it expanded its distribution. At the same time, Hosen embarked on marketing and promotional activities to drive the awareness of the brand.
Encouraged by this initial performance, the company took a leap of faith in 2003. Spearheaded by Daniel himself with the help of a branding agency, the Hosen brand was revitalised. Thebrandidentitywasrejuvenatedtoreflectmodernity,quality and freshness. Target age groups were determined and key consumer touch points were identified. The concept revolved aroundtheemphasisonqualityandfreshnessoftheproducts. In addition, it sought to create a continuous architecture that was from the consumers' point of view, visually continuous to create a formidable shelf presence.
The effect of the rebranding was instantaneous: supermarkets immediately placed Hosen branded products at prime shelves and consumers responded in kind. To reinforce the new brand, marketing communications such as television commercials
(TVC), roadshows and in-store activities were launched. Spurred by this revival, Hosen expanded from its original range of longan, lychee, rambutan and pineapple, to include peach, apricot and Bordeaux Bing cherries. To widen the line-up, the brand launched Hosen Select, a sub-brand that incorporates olives, tomatoes and gherkins to add to the diversity.
Despite the dynamic development on the local FMCG front, the low margins from the sale of canned products meant that the group had to look into export business for growth opportunities. "The Singapore market is simply too small and competitive, so we turned our focus towards exports," explains Daniel. In fact, the brand is now established in several markets and the company now has offices in Malaysia and Shanghai to cater to its exports business.
Read more similar content
Success Formula
"I don't think we can say we are successful. We still have a lot to do," Daniel says, modest of a brand that has a global span of more than 40 countries.
His cautiousness is well-warranted. After all, the Hosen journey has been rough, constantly adapting its business model from the very beginning. It is this exact dynamism and outlook that has shaped the journey of the Hosen brand, adapting to the constant tides of consumer trends and preferences. "We have to be in line with customers' wants," Daniel shares.
"Traditionally, canned fruits are considered a treat after a family meal but the family dynamics have changed. The family nucleus is getting smaller and busy lifestyles means that a family dinner is now an indulgence, rather than a routine," Daniel observes, commenting on the social trend. "So, we have to create demand for our existing markets," continues Daniel. "Consumers need convenient solutions in their busy lifestyles." Hence, Hosen introduced a single- serving size with an easy-opening lid and a spoon. "It allows anyone to indulge our products anytime and anywhere."
At the same time, the rising affluence of today's consumers has led to a surge in the food and beverage (F&B) industry with bars, cafés and restaurants teeming with gastronomic creativity. "Lychee martini cake, ice-blended rambutan freeze and cocktails such as 'longan-tini' and 'lychee- tini' have become ubiquitous in many joints," says Daniel. Furthermore, the brand has noted a greater interest among youths for its products as a key ingredient for alcoholic cocktails at social gatherings. Perhaps the fact that the F&B industry and youths alike look to Hosen is a testament to its legacy as one of the best-loved brands. At its core, Daniel attributes it to the impeccable quality. "You must have it before you can build your brand or your customer base is not going to be sustainable."
Future of Hosen
Hosen Group's growth from a lone provision shop in Chinatown to a leading brand owner of canned food products including fruits, vegetables, meat, olive oils, bread spreads and chocolate has been nothing short of a miracle. The brand is one of the few Singaporean FMCG brands with a near global distribution. From Dubai to Mongolia, from Mauritius to Sri Lanka, if one looks, chances are, Hosen products are stocked in the local grocer or supermarket.
Now, these are credentials that only few Singapore brands can claim to.