Future Skilling for Future Jobs
To enhance employment opportunities and protect job security, NTUC LearningHub is helping Singaporeans pivot career pathways successfully.
No matter what career trajectory you are currently on, one thing's for sure: upskilling and reskilling have become game-changers in a complex economic landscape.
Yet another calling card of the Covid-19 pandemic, it is the result of global economies and companies across industries experiencing a lull in their business operations and performance.
And it has sent a clear signal to all employees or those seeking employment: upskilling (receiving training to become better at one's current job) and reskilling (to develop additional skills to move to a new role) have become all the more necessary today. The latter must especially be emphasised upon, with the rate of new job functions emerging at the speed of digital advancement.
Realities of the new normal
NTUC LearningHub's (NTUC LHUB) New Normal of Sector Skills Report published last December has unveiled useful insights.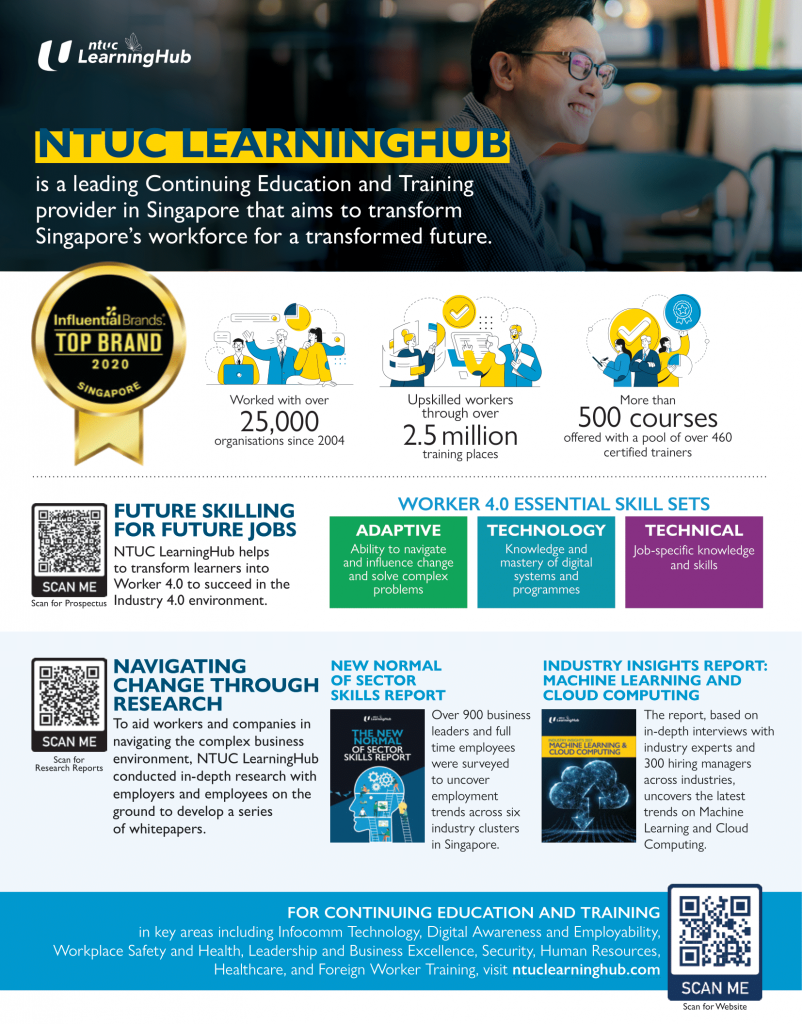 Among its highlights: 69% of employees recognise the need to adopt new skills due to changes in their work situation; 71% of employees feel the need to upgrade their skills to remain competitive in the job market; 47% say they are not confident that their current job will support them in their career growth; and 73% do not think their potential is being maximised at the workplace.
A large majority (68%) also say they do not receive the right training opportunities that can enhance their work performance in their current company, and only 42% are confident of retaining their current job — tellingly, employees from the manufacturing, lifestyle and built environment clusters are the least confident.
From the employers' point of view, 71% intend to hire candidates with a broad range of competencies, especially in data literacy skills; 84% indicate their employees need to learn new skills due to changes brought about by the pandemic, while 52% realise they do not have employees with the right skill sets to achieve current business goals.
For employees and employers alike, it is agreed that there is more to be desired when it comes to both training opportunities and the existing skill sets in the workplace, with uncertainties regarding job automation and unemployment rising on the horizon.
Bridging towards multiple career pathways
The need to transition from saving today's jobs to preparing for tomorrow's jobs is growing. This is where Continuing Education and Training providers such as NTUC LHUB can rise to the challenge of meeting these needs.
Mr Eugene Wong, NTUC LHUB's Chairman says, "In the new normal, many companies are experiencing a mismatch between the skills of their employees and the skills required to drive business performance."
This, however, requires the mutual cooperation of both employers and their staff.
Building effective two-way communication with employees to identify areas for skills upgrading is key to relaying an aligned training and development strategy with business outcomes with the team.
A conversation with employees should also be had, to assess individual skills or identify the gaps that need to be filled, so the team's full potential for the company can be achieved.
"We no longer can be single-tracked; we will have to upskill, be it for our existing role or the multiple career pathways ahead," says Mr Wong. Beyond a note of caution, the statement suggests the path ahead is paved with a plethora of options and exciting opportunities, for individuals who are willing to build up a wider repertoire of capabilities.
Mr Eugene Wong adds, "Upskilling must be led from the top. In our 'How Singaporeans Learn' report, it was noted that senior leaders of organisations are the least likely to upskill or reskill virtually compared to individuals in different career stages.
"When continuous learning is led from the top, more employers keep their skills sets up to date and anticipate opportunities, steering the company in the right direction during unprecedented conditions."
Employees should embrace continuous learning by making it part of his or her routine. They should also reassess and reskill, gaining a first-mover advantage when future jobs open up.
At the same time, they can continually stay informed about jobs and skills in demand, so they can upskill for employer-coveted hybrid roles and supplementary skills.
Creating avenues for engagement
To capture the pulse on the ground and understand the transformed future of skills and training, it launched four whitepapers including 'How Singaporeans Learn' and 'New Normal of Sector Skills'— last year.
Integrated outreach and digitalisation efforts focusing on both workers and companies have also been achieved via initiatives such as short refresher courses versus longer programmes teaching in-depth skills, free online courses on LHUB GO – its community initiative gathering over 100,000 users, touchpoints ranging from Virtual Roadshows providing target audiences with key information on skills upgrading and funding, and social media marketing and success stories on media publications to raise awareness and encourage more to upskill and reskill.
It also provides Learning as a Service to support the learning needs of corporate clients through end-to-end training solutions tailored to their business.
Future-proofing with broader skill sets
What is a good starting point to embark on your own self-fulfilment journey?
Mr Eugene Wong advises, "The future of work and life will change. New businesses and jobs will emerge, and some old businesses and jobs will disappear. It has never been more pertinent for workers to upgrade themselves to keep pace with evolving market demands.
"They can start by leveraging resources such as NTUC LHUB's New Normal of Sector Skills Report to uncover in-demand skills required by the industry clusters they are in, or are interested to join in the future.
"From there, source for courses relevant to these in-demand skills, or approach our course consultants to chart their upskilling and reskilling plans. More importantly, discover areas they can apply their skills in, and source for career opportunities in related fields to make the best out of the downtime."
As the future brings new job functions with technological advancements, transferable and timeless skills would become more valuable in the search for new job opportunities.
According to the report, data analysis (58%), project management (49%) and data-driven decision-making skills (46%) are three key skills employees deem important, while 89 percent of employers plan to hire candidates with a broader skill set for hybrid roles, with the top three most valuable supplementary skills for employees being in the areas of effective communication (57%), teamwork/ collaboration (57%) and data analysis (54%).
Popular training programmes available at NTUC LHUB that can address these needs include SkillsFuture for Digital Workplace (SFDW) — a national initiative to help Singaporeans prepare for the future economy by building digital skills and mindset for digital transformation — and E-Commerce Campaign Management (ICDL Digital Marketing), which teaches the fundamentals of digital marketing, including optimising content for search engines, using online marketing strategies, and monitoring campaign efficacy via analytics.
Enabling future skilling for future jobs
Recognising that companies and workers will get busier as the economy reopens and recovers in Phase Three, NTUC LHUB continues to find innovative ways for them to balance work and learning by offering various modalities of learning.
To date, it has transitioned over 200 of its most popular courses to virtual delivery. It is a partner of industry leaders such as American multinational technology and consulting company IBM, technology and solutions company Dupont Sustainable Solutions, and the world's largest digital learning library go1, for online bite-sized courses. It will continue to bring in world-class knowledge to help companies and workers adapt.
The takeaways from the current pandemic, in terms of managing crises, sustaining company culture and employee engagement and exploring opportunities, will be valuable along the way. These range from engaging in planning for the new norm — to think about the new trends that are or will be affecting the organisation and continue to stay focused in being ready, relevant, and resilient to serve our target markets — to ensuring that employees are in the heart of all the organisation does, enhancing NTUC LHUB's position as a builder of future skills for future jobs, continually helping employees and companies in the near future, and beyond.
To find out more about how workers and companies can adapt to the post-pandemic period through NTUC LHUB's suite of solutions, please visit: http://bit.ly/ntuclhubprospectus2021.